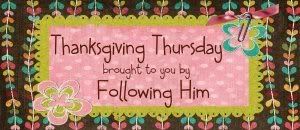 Hi sweet people! Have you had a good week? Any good highlights?
What's Thankful Thursday? Thankful Thursday is a time to reflect over the past week and be thankful for what you do have. There is no thought or idea too big or small. All are welcome to attend and I am trying to get better at reading my link ups too. How do I participate? Simple-you leave me your TT in the comment section or link a post with Magic Linky. ALL are welcome to attend.
This week...


I am thankful to be able to have a roof over my head.
I am thankful for supportive friends who understand.
I am thankful for my family who makes me laugh on a daily basis.
What are you thankful for?


Please leave your link or comment in the comment section. The magic linky is being stubborn today.