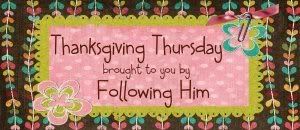 Happy Thursday to you all! I had to stop this week and think about all the encouragement and support I receive on a daily/weekly basis. It amazes me how kind and loving people are. I am overwhelmed, sometimes, by their love.
My life has been blessed by great people and lovely friends. I thrive off of encouragement and they always know what to say and how to say it. I am forever grateful.
This week...

I am thankful and grateful for nice comments and daily support.
I am thankful for people who take one minute out of their day to listen to what others say.
I am thankful for insulated cups. Don't laugh. ;)
I am thankful for DVR. When I can't sleep or need a breather, it always has something I can watch. :)
What are you thankful for?
Happy Thursday!!