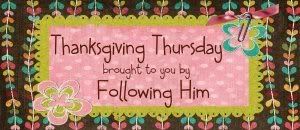 Thursday, Thursday, Thursday!! I've been a bit MIA this week but for good reason. I am teaching VBS in the morning for Preschool and in the evening with special needs kids and 5th graders. It is so much fun but is exhausting. I seriously thought yesterday was Wednesday. My days are running together & I love most of the minutes in them.
What's Thankful Thursday? Thankful Thursday is a time to reflect over the past week and be thankful for what you do have. There is no thought or idea too big or small. All are welcome to attend and I am trying to get better at reading my link ups too. How do I participate? Simple-you leave me your TT in the comment section or link a post with Magic Linky. ALL are welcome to attend.
This week...
I am thankful for coffee and caffeine. :)
I am thankful for a child's laugh and that ability to brighten my cruddy mood.
I am thankful to have wonderful people in my life.
What are you thankful for?