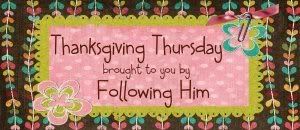 Thankful Thursday is a time to reflect on what blessings or thankful thoughts/gestures you've experienced or seen. No thought or experience is too small or big. Feel free to reflect, leave a comment, or link up. All are welcome.
This week has literally flown by. I am so excited for this weekend. I get to attend my first out of college wedding and see my BFFs from college. It has only been a week but I MISS THEM.
This week,

I am thankful for those who have supported me thick and thin over the years.
I am thankful that I have a part time summer job and can (sort of) relax while looking for a teaching job.
I am thankful for learning experiences. While they may not be too well liked at the time; something comes out of it that I learn from.
I am thankful that I get to see my BFFs, from college, on Friday afternoon. One of our friends is getting married this weekend and I am driving up for the wedding.
What are you thankful for??