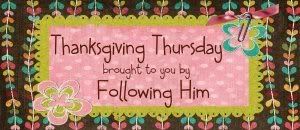 Thursday, Thursday, Thursday! It's Thursday and I am so glad. :) It has been a week indeed. If you don't know what Thankful Thursday is, let me explain. Thankful Thursday is a time to ponder what we all have to be thankful for this week. No thought is too small or big.
This week, I am thankful for...
My mom calling to check that I am awake in the morning
> My brother answering my texts >
Snow on the ground
> A warm coat >
A smile from a student
> Watching the lightbulb go off in a student >
Being told I'll be a great teacher.
Feel free to leave your comments in the comment section.
Happy Thursday!!