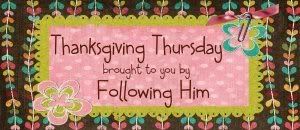 Wasn't it just the weekend? Where does time go? It sure seems like yesterday was another day of waiting for that 3:00 bell to ring for the weekend. How's your week been? Mine has been challenging but excellent. I am doing what I love, while student teaching, and loving it.

What's Thankful Thursday, you ask? It's a time, once a week, to think about what you are thankful for. No thought is too small or big. All are welcome to attend.

This week,

I am thankful to be able to gain experience in Special Education while student teaching.

I am thankful for the love I get back from my students.

I am thankful to have the support and encouragement from friends and family.

I am thankful to be loved.

Easy as pie, right?! I've learned that time and memories are precious.
What are you thankful for today?

Have an awesome Thursday!!