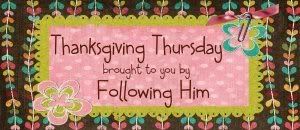 Finally, Thursday! It has been a s.l.o.w. and EVENTFUL/STRESSFUL week! I so glad today is here. That means the weekend is one day closer! Ahhhh...the fact that I get homework days is such a nice thought...not!
I could vent and rant about what I don't like about this week but I won't. I do have a few thankful things to share about and am glad to take the time to reflect and be thankful!

This week,

I am thankful for a special education professor telling it like it really is. Did you know that IDEA trumps No Child Left Behind? (NCLB)

I am thankful for Beth and Liz who are consistent commentors. I can always count on their comments.

Have a wonderful Thursday!!