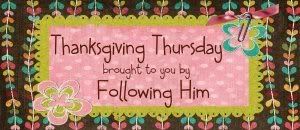 It has been a week and I am trying to fight back, as to, the PILE of homework that I get to (enjoy-ha) this weekend! I hope you have had a good week. It's time, once again, to stop and think about what your Thankful for this week. Leave a comment in the comment section. All are welcome. Whether big or small...no thankful comment is turned away.
I am thankful that I have Friday to work on homework.
I am thankful for encouraging words.
I am thankful for funny emails.
I am thankful for sweet friends!

Have a great afternoon!!