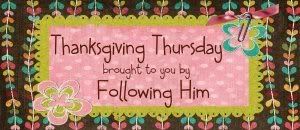 How's your week? Having a good one or are you longing for the weekend? Umm...I'll be honest that I am ready, so ready, for the weekend. This week has been nutso and I can't wait for a relaxing weekend.
We all have something to be thankful for-big or small. Either tell me by linking your TT post to mine or leave me a comment in the comment section. All are welcome to play along.
This week...
I am thankful for my momma who just listens to me when I need to talk things out.
I am thankful that my brother had a good start to his freshman year in high school.
I am thankful for my professors who are willing to encourage, support, and give you a shoulder if need be.
I am thankful for my rockin' good newspaper staff whom I work with.
I am thankful for the cooler weather.
I am thankful that I am breathing in and out today. :)
So there you have it. You can be thankful for just about anything.
Have a great day!!!