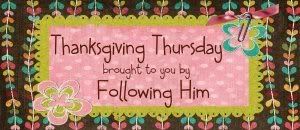 How has your week been? Can you believe it's Thursday or are you overjoyed Thursday is here? I, for one, can't believe how fast the week is going. Summer is, almost, coming to an end and school supplies are waiting to be picked up from off the shelves. Another summer countdown will come soon.
Have you been thankful over the past week? If so, tell me about it. Either leave your thankfulness in my comment box or link your post to mine. Everyone, even in times of sorrow, has something to be thankful for. All are welcome!
This week...
I am thankful for my mom! She can drop anything and be my biggest supporter at a moment's notice. I am very grateful to call her "mom" or "mama."
I am thankful for my church and the instant family that comes from it!
I am thankful for Quad mamas and friends, in general. Each one of these ladies supports and encourages and I love reading their comments, emails, tweets, and texts.
It's that simple. Just tell me or link up to what you are thankful for this week!
Have a great day!!!