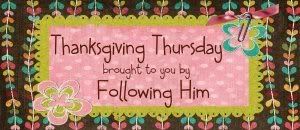 This week has been crazy on my end yet I have to stop and think what I am grateful & thankful for this week. Do you ever have moments where you wish life was different or would go a different way? WELL I am telling you now that we all do. Today, I will stop and be grateful for what I have at this time.


I am thankful for my Church family who love & support me each day and are AWESOME to work with and be around.


I am thankful that I can breathe another day, each morning, and thankful for what HE has given me.


I am thankful for those who sacrificed their lives and freedom so that I can live freely today.


So tell me-
What are you thankful for?
You can leave your comment in the comment section or link a blog post to mine. The code for TT is on the right side on my blog.
Have a blessed day!!!