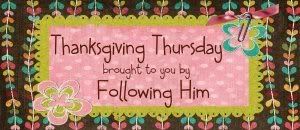 Hello blogging world! Hope you are having a great week. I have a story to share and a thankful thought included.
This week, one of the faulty members' husband was in a car accident and is in the ICU with a breathing tube due to really low BP and difficulty breathing. The kicker, literally, is that he is a quadriplegic and
he did
have use of his arms/hands before the accident. Now he does not and has become very agitated. Who wouldn't be? Marcus has 2 broken legs and a broken back above where he was injured to before. This man and his wife, who is a professor at my college, have been heavy on my heart this week. I ask you to pray for Marcus and his wife Lindsey as they have a long road ahead of them.
I am thankful
that I can get up from any position and put one foot in front of the other. This is a luxury that Marcus does not have.