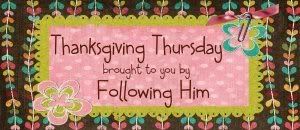 Good Thursday to all my sweet peeps! If you live up North and are under snow...please stay warm. Here in good ol west Texas, we are expecting a nasty day as it snows and sleets and yes I will be careful on the roads. I will go ahead and say that today is going to be L-O-N-G as I am running off a little bit of sleep of today. I don't get it...I have been sleeping fine...oh well :o Life is good right now! Sure a few projects have been moved up to be due next week instead of 3/1...but I am at peace and NOT freaking out...what a concept!

This week, I am thankful for my:
* Parents
* Siblings even if my brother "jokes" about not wanting to talk when I call

* Sweet friends who just rock my world
* Seeing my hard work start to pay off
* Life that I live day in and out
Hope you all have an awesome Thursday and stay warm if you live somewhere that is covered in snow. The weekend is almost here...you can do it!