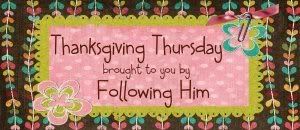 Happy Thursday to all my fellow readers! Hope you are staying warm and enjoying/getting through your week! Time for another edition of Thankful Thursday SO either link your blog post to mine or leave your "thankful" comments in the comment section. No thankful thought is ever small or petty. All are welcome!
This week...
I am thankful to have a rockin' good online support group through blogging,
KFA
, twitter, and facebook.
I am thankful for my mom and dad for always supporting and never, ever disappointing.
I am thankful for my brother who keeps me laughing.
Man, I will miss this kiddo when I go back to college Sunday.

Happy Thursday to you!!!