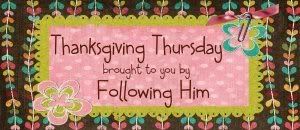 I don't know about you...but I have been having a really rough week. My college finals are next week and besides not getting everything done I need to...I am extremely stressed. Enough about me though...Thankful Thursday was created to "count your blessings" each week and I am extremely honored to be able to host it.
If you want to play along...either leave your "blessings" in the comment section or link your TT post to MckLinky. Ok, now onto my list:
** I am thankful that even when I am completely drained; HE gives me strength!
** I am thankful for sweet comments that rock my world.
** I am extremely thankful for those that kind and supportive.
** I am thankful for blessings in disguise.
** I am thankful for friends & family
Have a blessed Thursday!!!