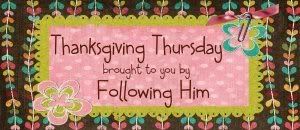 Good Day to you sweet people! Thankful Thursday is up and ready for duty ;) I know the holidays can be STRESSFUL, I know since I am still Christmas shopping, but TT gives you an opportunity to reflect about what YOU are thankful for this week. So either link your blog to mine or leave your thankful list in the comments section.
I am thankful that I can be relatively healthy this Christmas season (fingers crossed).
I am thankful for sweet people!
I am thankful to be able to have a nice, long, and much needed break from school.
I am thankful for those who give advice.
I am thankful to see the holiday/Christmas spirit in SO many people's eyes and their hearts this year!
Have a GREAT Thursday!!!