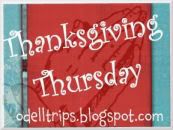 Really? It's Thursday already...where did the week go? Anywho...here comes my THANKFUL list for the week:
** I am thankful for my supporters who already make my face light up when I see comments on my blog. You see, when I started The Shred, I did not realize the PAIN I would be in. My "cheerleaders" are helping me get through and I am thankful! Thanks so much peeps!
** Friends & Family: These peeps have unconditional love and support and I am ever so thankful. This includes all my blogger friends too.
** I am ever so thankful for Tylenol. It has been my right hand helper with the PAIN This week.
** I am ever so thankful for good books to read. A post will be in the works soon about what I am reading right now :) Since I know you will ask :o
Hope you all are having a GREAT Thursday!!!