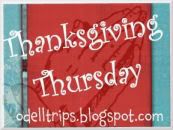 Top 5:

** Being able to say that God is my Heavenly Father

** Being able to say I have a great support group

** Being able to say that dad's party on Saturday will be a BLAST

** Being able to say that I have friends who are there to listen

** Being able to say that I am letting things go :)*********************************************************

Now onto the other things. Tuesday night I had a class where this professor repeatedly picked on me and told me I "needed work" and was "color blind" because I could not see the streaks of color that I used. The tears flowed with those comments and I am at my wits with her. I feel that because I have an IEP for my Dyslexia and Dysgraphia she feels the need to give me more attention, but this is in a NEGATIVE way. Even the classmates around me feel she is being too harsh. I have tried to be nice and just deep breath, but when you tell me I am "stupid," what do you expect me to do? This professor is making me second guess myself and making me feel absolutely horrible about myself. Granted, I have dyslexia and may not understand everything, but give me a break. She is going way too far!
Oh yea and on Tuesday, she told the class, here are some assignments (9) to do over Spring Break! Hello, is SB not supposed to be relaxing and enjoyable? I will be taking the assignments home to work on with my mom, who has art talent. I am not mad that I have Dyslexia or Dysgraphia because they are just a natural part of me that will never go away, but I am mad at this professor who is taking her way with me way too far. If you could please pray for me over the next few weeks that this situation does get better sooner than later...please. I am at my wits end with this professor and your prayers, I am hoping, will help pacify this situation a little.

************************************************

Monday I spent 2 hours at the police department. My tailgate on my truck was stole. Meaning that someone at night, took the entire back piece off my truck. I filed a police report and just frustrated with the whole situation. Not the best way to start off my Monday at all people.

***********************************************

This week has been one of the toughest of all during my college career. I am so ready for Friday's classes (4) to be over with and for me to go home for 9 days. I am so ready to sleep in my own bed at home. I am so ready to see my family. I am so ready for dad's big birthday bash on Saturday with over 100+ people. I am so ready to be home. I am sorry if this is a debby downer a little, but this is my life and I am laying it out for ya. Hope you are having a MUCH better week than me as well!
Have a great Thursday!!!!