Sunday, at
Extreme Parenthood
, created this WONDERFUL event that occurs each Friday. Who knew Ryan Gosling was so special needs' aware? Who knew he cared so much? This is to promote special needs awareness weekly. This also shows I am not as creative as the other links. This shows I spend a bunch of my time in the trenches and I am a-okay with that.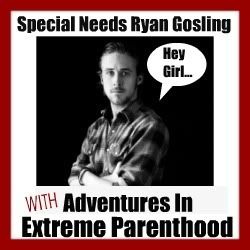 Need to see more awesome Ryan posters?
Click on the button above.