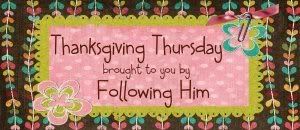 Good morning sweet peeps! I don't know about you but this week has been exhausting and full. I am so glad tomorrow is Friday and then the weekend. I don't know about you but I LOVE the weekend.
This week, I am so thankful for my family and friends. With deaths and tragedies in the family, it's so nice to know that you have in real life support and online support.
I am forever grateful for support that I receive daily. It sure me feel awesome.
What makes your week better when you're having a rough one?
Tell me,

What are you thankful for?