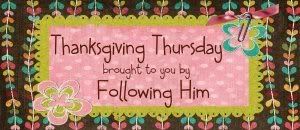 I don't know about you but that three day, fourth of July weekend has had me off track all week long. I LOVED being off on Monday but it feels like it's only Wednesday on Thursday this week. It is so strange, to me. How's your week been? Good, bad, ugly? My week has been interesting to say the least.
Yesterday was Nonni's birthday and she would have been 80. It was rough, on me, that she wasn't here to celebrate it. I realize she is in heaven looking down on me but that was just a rough day all together.
What's Thankful Thursday? Thankful Thursday is a time to reflect over the past week and be thankful for what you do have. There is no thought or idea too big or small. All are welcome to attend and I am trying to get better at reading my link ups too. How do I participate? Simple-you leave me your TT in the comment section or link a post with Magic Linky. ALL are welcome to attend.
This week, I have so many blessings to celebrate. I'll share a few today.
I am thankful for my Church family who can see right through the generic "I'm fine" spiel and give me words of encouragement.
I am thankful for email. It may sound silly but I thrive off encouragement and kind words. I really don't like the touchy/feely stuff but give me sweet thoughts and you can be my best friend.
I am thankful my second interview with a preschool went smoothly. Granted, I was told that they are still interviewing people but it was so inspiring yesterday afternoon.
I am thankful for the world wide web and all of its apps and such. Little do many know but my phone and I are together most of the day. It's like I am totally true to my online friends and have to keep up with them. I am eternally grateful for those people whom I connect with daily.
I hope you have a fantastic Thursday!!
Smile at someone today. They may smile back.