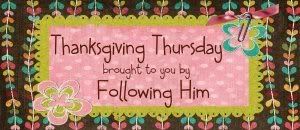 Thursday, Thursday, Thursday!! It's Thursday and I am thrilled! It has been a great week for me. How's yours?
What's Thankful Thursday? Thankful Thursday is a time to reflect over the past week and be thankful for what you do have. There is no thought or idea too big or small. All are welcome to attend and I am trying to get better at reading my link ups too. How do I participate? Simple-you leave me your TT in the comment section or link a post with Magic Linky. ALL are welcome to attend.
This week,

I am thankful for my brother. Even though his lack of talking (to me) drives me batty. He can be sweet and sentimental when he wants to be. For that, I am thankful.
I am thankful to be able to hang out and let loose sometimes. I went to a friend's indoor soccer game last night and it was an adventure.
I know nothing about soccer but it was great!


I am thankful that my dad made it home safely, from Germany (for work), and is back under one roof. Even though he can drive us batty, it's good to have him home.
I am thankful to have my summer intern job again this summer.
Have a great Thursday!!