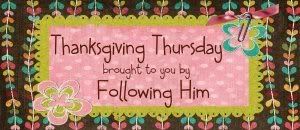 Good Thursday to you all!! Can you believe that Christmas Eve is tomorrow night? I seriously can not right now. I mean, didn't New Years of 2010 just happen? WoW...time does go by fast!! If you are new to Thankful Thursday, have no fear!

Thankful Thursday is a time, during the week, where you think of what you are thankful for. Everyone can play along. I only ask that if you do play and post a blog post about it that you link it to mine. If you don't want to do a post but do have a Thankful Thought, leave it in my comment section.


I am thankful that
Alex
is off the ventilator and breathing on his own.
I am thankful that I have access to doctors, of my own, who can help me too.
I am thankful for my family and friends & the support they give.
I am thankful that I have the protection of the U.S. military each and every day.
I hope you all have a great Christmas/holiday weekend. Granted it will be stressful and busy, but I am sure you will have fun. Please be safe and enjoy yourselves.
H

a

p

p

y

T

h

u

r

s

d

a

y

!

!