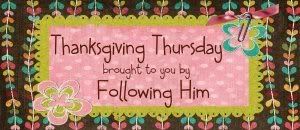 Are you new to my blog or Thankful Thursday? Have no fear! Thankful Thursday is a way to reflect on what you are thankful for each week. Everyone can play and no thought is too small or too big. Either leave your comment in my comment section or write a post. It's easy and simple! All are welcome.

Today my heart is full of sadness and love. The past few weeks have been interesting and I am constantly amazed of Alex and all that he has to go through. Sometimes I think that a child's strength is much more than what an adult could handle. I am blessed with a family that loves and supports each whim and need. 2010 has been a ride of my life and I can't wait to see what 2011 brings.
This week...

I am thankful for my parents and siblings.
I am thankful for friends who have supported me through thick and thin.

I am thankful that each and every day is a new day.

I am thankful for small moments of silence.

Happy Thursday...I am thankful for you!!