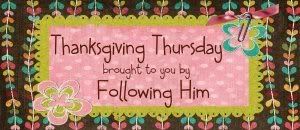 Happy Thursday everyone! I, for one, am THRILLED that it's Thursday! This week has been CRAZY and it's about to get crazier as this weekend is my college's HOMECOMING!! I have SO MUCH to be thankful for!
What are you thankful for? Tell me in the comments today as the linky tool is not working for me. Sometimes everyone gets overwhelmed and it's nice to just stop and think about what you are thankful for each day.
This week...
I am thankful that I got 10 hours of sleep last night. Be jealous; I know you are!
I am thankful that fall, at least in the morning, has arrived in Texas. It was 45* this morning!
I am thankful that I have awesome friends who support and uplift me on a daily basis!!
I am SO THANKFUL that all the Chilean miners were rescued and are alive!!
Have an awesome Thursday!!