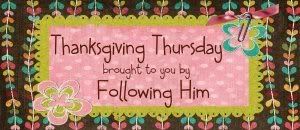 It's Thursday and has been one HOT and busy week. I hope you have had a good week and are looking forward to the weekend! I know, I sure am! I don't know about you but the HEAT and over 100+* outside just makes me feel blah! Anyone else feel that way? This week, tell me what you are thankful for by either linking a post to mine or commenting in my comment box. All are welcome!
This week...
I am thankful for the opportunities that have come my way.
I am thankful for sweet and caring people.
I am thankful that my brother, who has been in DC since 7/24, comes home late tonight. I have missed him!
I am thankful for my family & friends!
So there you have it. Another week is almost gone and it has, in my opinion, just flown by!
Happy Thursday!!!