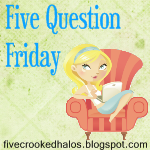 It's Five Question Friday time! Brought to you by Five crooked Halos. I am so glad it's Friday!!!
Here are the questions and my answers for this week!
**Do you know how to play a musical instrument?
Why yes I do! I can play the trombone and recorder quite well.
**What is your pet peevewhile driving?
Just one? Well I have two that really irk me. One is texting while driving and two is applying makeup while in traffic.
**Would you rather have a housekeeper or unlimited spa services?
I honestly do not mind cleaning therefore I would take the daily, yes daily, massages thank you very much.
**Is there a song that you hear that will take you back to the moment, like a junior high or high school dance?
"Can't touch this" by M.C. Hammer. A little old school (for me) but still loved in high school.
**What song best represents your life right now?
Easy peasy..."I have been blessed" by Martina McBride. It truly makes me have goosebumps.
So there you have it! A Friday post where you get to know a little more about me. Click on the button above to see more Five Question Fridays today.

TGIF!!!