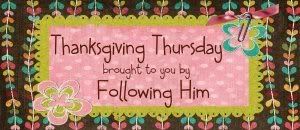 The weekend is already so near and I am so glad. This means I am one week closer to finals. Don't scratch your head about this. I have one more full week of school, one week of finals, Maymester, and home by May 29th! I am thrilled :) This semester so needs to be over!
I am happy to say that I will not be taking 19hours next semester.
This week, I am thankful for my momma who calls me some mornings just to be sure I am up. Thanks again Mom!
I am thankful for coffee! These past weeks have been busy and coffee just rocks my world.
I am very thankful for my education buddies who make me laugh, smile, and give me advice on a daily basis.
Hope you have a great Thursday!!!