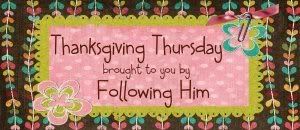 GOOD Thursday to you all! I hope you have had a great week. My week has been eh but I am so glad the weekend is near :) My heart has been heavy this morning and this week for
Layla Grace
who is a 2 year old fighting an aggressive cancer. She is at home and death is near. She is a BEAUTIFUL child and I just well up in tears thinking about her. My prayers are going out to her family.
Today I am encompassing thankfulness to every person who is in my life and supports and encourages me. From quad mamas to mamas to college students, I am blessed to be surrounded with a great family.
Want to play along today? Just link your post to mine or leave your thankful comments in the box below!