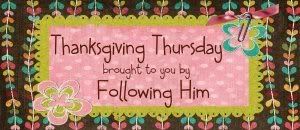 There is light flickering at the end of this LONG midterm tunnel. After today...I will be home free. But today is one of the the worst looking days...I have two presentations, an online (3 hour) test to take, and a research paper due. Oh and I did not sleep last night. Therefore...come afternoon today...I will be oh so nice :o

BUT
I have so much to be thankful for:

** I am thankful for my momma who has dealt with my moodiness, unhappy, pathetic ups and downs these past two weeks.

** I am thankful for comments and prayers and sweet vibes this week. I am really stressed out and have already planned a very low key weekend, but still...life has just thrown curveball after curveball this week.

** I am thankful to the Library staff and faculty who have helped me get through paper after paper after project these past few weeks. AHHH...they have been WONDERFUL!

** I am thankful for small blessings...like an extra hour of sleep, coffee in the morning and night, caffine, and pillows to prop feet up on :)

** I am thankful for HIM who has given me strength, encouragement, and heavenly hugs this past week.
SO>>>I want you to tell me what you are thankful for...either through the comments or by linking your own personal post up to MckLinky. It's simple, quick, and allows for each and every one of us to count all of our blessings today. Whether your having a bad week or a great day...I would love to "hear" about it.
Have a blessed day!!!