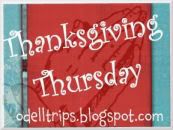 If you want to view more TTs, click on the button!
So much has happened this week, yet as I reflect on the good...I have come up with 10things to be thankful for this week.

** My FAITH in HIM
** Prayers answered
** My parents who have given me so much during my lifetime
** My friends & faithful bloggers who lift me up when I am down
** Inspiration through others
** The ability to write devotionals for my 4th & 5th graders @ church
** Summer vacation
** Troops overseas who are risking their lives to keep me free
** Good news
** Getting through 2 full years of college...only 2 more to go...WOW!!!
I must add that it has been raining for 16+ hours now and there is no end in sight...I am thankful for rain too!