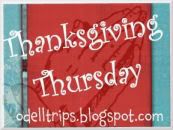 Nicole totally rocks my world and is again hosting Thankful Thursday again today! Thanks Nicole :) Click on the button or her name to see more Thankful Thursdays.
** I am thankful for Stellan improving a wee bit and being in Normal Sinus Rhythm for a HOURS today. He is still in need of prayers as the MckFamily is on day 12 in the hospital today.
** I am thankful friends...I laughed so hard my jaw hurt last night! Plus it was a GREAT stress reliever.
** I am thankful for the "light" at the end of this semester tunnel...even though it is far, I can see it!
** I am thankful for my family and all that they provide with me!
** I am thankful for people who lift me up each and every day!
Most of all I am just THANKFUL...THANKFUL for life...THANKFUL!