I don't know about you but I am SO GLAD Friday is here. :) That means I get to sleep in tomorrow. I use the term, "sleep in" loosely, since my body is used to getting up at 6:30 these days and I've rolled over at 5:00am three times this week.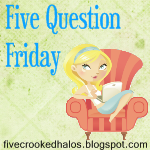 It's Five Question Friday time...maybe you'll learn something new about me. ;)
What ringtone do you have on your cell phone?
I have the basic do-do-dodo-do-do iphone ring. I could change it, but truth be told, I love it. :) It's also on vibrate so if the sound's turned down, I still feel it ringing.
What is your favorite memory from this summer?
This may sound cheesy but I love watching my brother during football practice. Granted, it's like 107* outside (literally) but love seeing him improve on and off the field.
Paper books or ebooks?
Paper books all the way. I like to feel and smell the books. I've tried my mom's kindle and just don't like books presented online. Something about holding a book makes me happy.
If you could have one home upgrade what would it be and why?
Syncing all of our schedules on a master calendar. It may sound weird but I saw that Jada Pickett Smith's family has a computer screen just for their schedule. It would eliminate the need to tell different family members things at least five times. ;

)
When was your first serious boyfriend/girlfriend?
I haven't had a boyfriend ever. Granted, I have boys that are friends but I am just not looking right now.